As mentioned before, my wife and I have tickets for the Pops series at the National Arts Centre. Six times a year, we head out to listen to the brilliant NAC orchestra play everything from Big Band to Broadway, from golden oldies to current pop, and from classic cinema to modern soundtracks. It's an eclectic group of shows, and it keeps it a bit more lively than two or three pieces by Mozart in the Classic series (which we also enjoy, just different). The Pops series is a little lighter fare.
Now, note that orchestral treatments of some of the material is sometimes challenging. Not musically, that's relatively straightforward. But first they have the challenge of an orchestral treatment adding anything to the performance — often times it's good music, but you end up just hearing the singer, not the amazing musicians behind them, unless there is a special solo or instrumental section. Equally, there can be a challenge to channel some inner storyline…to make you SEE the singer in the role of singing that song, not just random person X singing random song Y. If they're singing wistful, hopeful, Broadway tunes, you expect the singer to look and act wistful, hopeful, too, not just sing the song. If they can't embody the song, it just doesn't resonate. Nice tune, nice lyrics, but nothing that transcends. Kind of like the difference between an actor doing a reading, playing a role, or actually embodying a role. It's also, for me, one of the reasons I rarely am blown away by a choir — it's hard for a whole choir to embody or channel a song, even if the harmonies are intricate and compelling.
Last night was the last of three performances by an a cappella group from Finland, Rajaton, doing a show called The Music Of Queen. They did two or three songs a cappella style, and the rest backed by the orchestra.
Now, colour me naive, but when I hear "Music of Queen", particularly with a sub-title of "We Are The Champions", and the animatrice comes out (Manon St. Jules, who I love for the hosting role she does) and talks about being "ready to rock", I kind of expect a bit of oomph in the music. More up-tempo, harder edge, etc. You know, ROCK. Even accepting that the majority of the audience by far is 10 to 15 years older than me, and some 25-30 years older, I was not expecting two-thirds of the show to be slow ballads. When one woman led the singing of "The Miracle", I thought she was challenging her inner-Fifth Dimension circa "Age of Aquarius". I'm getting ahead of myself a bit though.
When the six came out on stage, I could easily see them doing the ABBA show that they apparently did here a few years ago. No problem. Even the right age group for ABBA. 🙂 But not the rock music of Queen, or even the aging rockers role they kind of needed to sell it. There were three women in the band, which I could live with, but only one looked like she was capable of "rocking it" ever in her life. The other two looked like divas, pure and simple, and that's basically how they sang. I expected a little more grit. Of the three men, I could believe that one of them could have been a rocker in his day; the other was big and intimidating looking, and I could see casting him in a Quentin Tarantino film as a quiet bad guy, but not a rocker; and the third could pull off a decent David Bowie stand-in, but once he opened his mouth, he sounded like a Phantom of the Opera-angst-ridden robot with a thick accent.
Here's one of their photos from the publicity shot: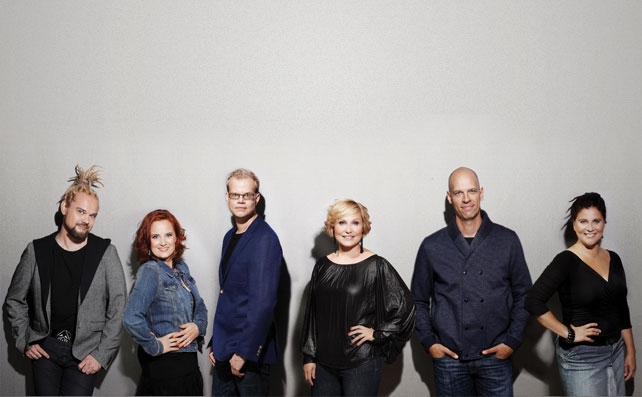 The two on the left were decent; then the robot; then a woman who now looks like a bad ad for botox disasters (she NEVER SMILED all night, and never came close to embodying any of the songs); the intimidating guy with the lowest voice I have ever heard; and the girl whose rocker-possible look above has been replaced by a diva-style hairdo and moves. Note that I care how they look in real life, I just care that their costumes and make-up looked nothing like "rock" for this show. As I said, I bet they were awesome for ABBA.
The first half of the program included:
We Will Rock You
Killer Queen
A Kind of Magic
Somebody to Love
You Take My Breath Away
Don't Stop Me Now
Innuendo
I'm Going Slightly Mad
Medley (It's A Beautiful Day, One Vision, You Don't Fool Me, Mustapha, Made in Heaven, and We Are The Champions)
The half was decent, but it generally alternated with decent song, okay song, decent song, okay song. Killer Queen, Somebody to Love, and I'm Going Slightly Mad were the better ones of the half, not including the a cappella version of You Take My Breath Away.
The second half included:
Jealousy
Radio Ga Ga
Another One Bites the Dust
I Want It All
Under Pressure
Love of My Life
Who Wants To Live Forever
The Miracle
Bicycle Race
Friends Will Be Friends
The Show Must Go On
It was an okay second half. Radio Ga Ga was decent, Bicycle Race was okay. I love Another One Bites The Dust, and thought it would be the highlight of the night for me. Then the tall bald guy (the baritone) did the opening about two octaves below normal. Almost like he was reading it at times. Highly disappointing. Not horrendous, just disappointing.
By contrast, their a cappella version of Under Pressure was outstanding. You can see it for yourself, from a Newfoundland concert in 2011 (my favorite part, honestly, is the baritone doing the drums at 2:20):
If you're a Queen fan, you'll notice a very LARGE gap in the above repertoire — Bohemian Rhapsody. My wife and I thought it would be too long to do as their encore, and I was betting on Crazy Little Thing Called Love. Fat-Bottomed Girls was unlikely. But they did Bohemian Rhapsody, and they did a great job with it. The highlight is about the 3:20 mark below, when the song really starts to bounce back and forth between the singers (echoing) from a concert in Finland.
I just wish the rest of the concert had been as compelling. Enjoyable, but not overwhelming.